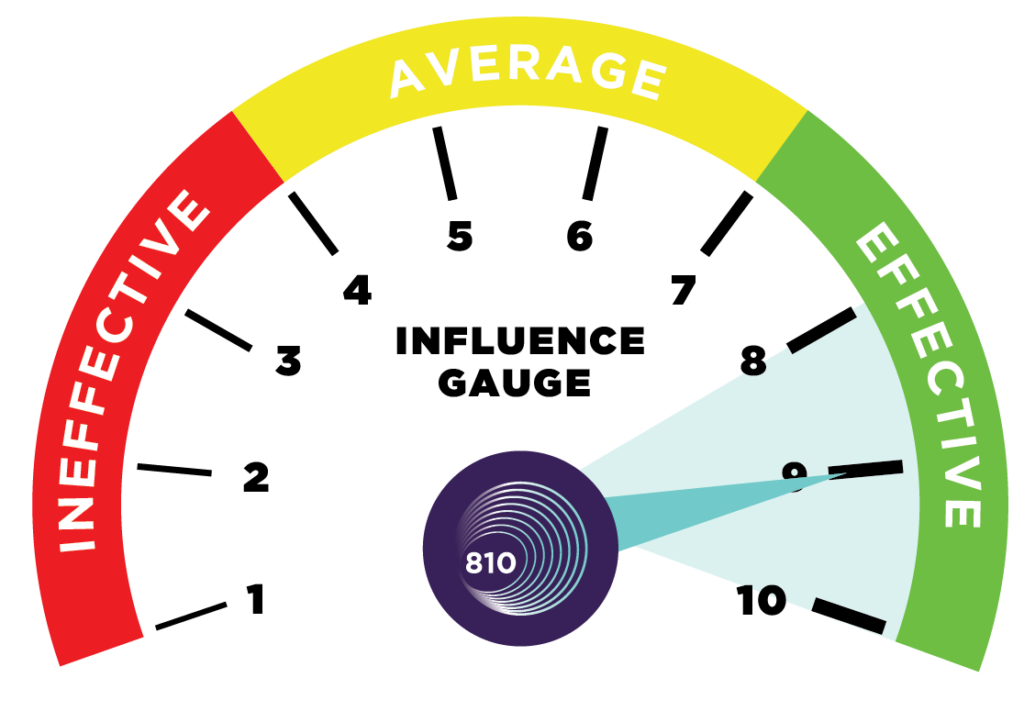 Your ability to connect and influence is critical to your success!
It all starts with influence. On a scale of 1 to 10 how do you rate your influence?
At Section 810 Communications our goal is to ensure clients score between 8 and 10 on the Influence Gauge.
Whether you are a leader, sales professional, speaker, or anyone dependent on effective communication, your ability to connect with and influence others is paramount to your success.
This is where we can help.
A word from our President
Communication Workshops
Improve your communication skills to increase your influence. Learn about communication and presentation workshops to help your leaders and entire organization grow.
Leveraging DISC
DISC personality assessments are most valuable when applied to specific settings such as leadership and sales. Learn how DISC can benefit your team.
Effective Sales Training
Incorporating proven sales methodologies while leveraging your team's inherent strengths is critical to increasing sales. Learn how to sell more effectively.
What Others are Saying
We hired Section 810 Communications to conduct a workshop on VQ, and it was a very timely and relevant topic for our students!  Jeff Scott did a great job energetically presenting practical guidance to our MIT Sloan graduate students to prepare them for Networking Night and communicating in a virtual recruiting environment.  I am confident that our students are now better prepared to have a more positive impact with employers through improved virtual soft skills. I highly recommend this workshop!
Jeff Scott is a natural coach when it comes to presentation and selling skills. He has an unusual ability to connect with people from various cultures and backgrounds. The training he gave our Bangkok staff not only taught them the practical skills of how to communicate and lead effectively, but also demonstrated how to understand different personalities and effectively interact with each type.
I had the privilege to participate in The Art of Influential Leadership workshop. This training was eye-opening to many of our team, including emerging leaders, as it allowed them to better understand themselves through DISC personality assessments and improve their communication and collaboration by an enhanced awareness of others. The training was conducted live in Mumbai and simulcast in Delhi, and both groups walked away with practical steps they could take to improve their effectiveness.
Of all the expert trainers that we've brought in, Jeff Scott gave one of the most memorable and effective presentations to train our realtors on Personality Based Selling. Jeff has also been a great business advisor. He is incredibly effective in analyzing situations and offering excellent relevant advice.
The training on Delivering SPECIAL Presentations was valuable to me because my role requires making frequent presentations. During a recent large-scale event in Europe with hundreds of participants, I was able to tangibly implement some of the lessons I learned from Jeff, including some that helped reduce my jitters and nervousness before taking the stage! The compliments I received after the session were amazing. Through Jeff's training I have also increased my effectiveness in collaboration and negotiating with others to achieve mutual goals in a true win-win environment.
As a mortgage loan officer, I have had extensive sales training over the past 25 years, but it has always focused on how to sell. Since working with Jeff Scott, I have learned that it's more important to know how and why consumers buy! By shifting my focus and understanding how to better relate to my clients through DISC training, I feel more empowered and effective in building a stronger bridge to others.
Our Team
With a global presence to serve all of your communication and leadership needs.
Global Presence
With an international presence, Section 810 Communications can provide training at your offices or through public events.
Our diverse team works effectively with cross-cultural clients, and multi-lingual training is available.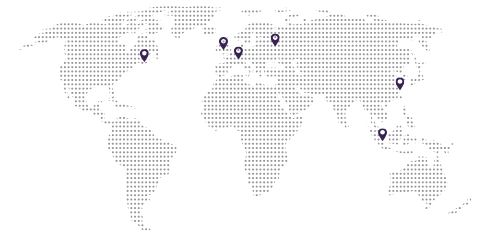 Contact Us
Tell us about your needs and we will schedule a free consultation.